In this post we'll discuss the nuances for HSE Portable Appliance Testing compared to doing PAT testing for a business (can check the PAT Testing FAQ for Business here). We'll also outline the regulations that underpin the PAT testing requirements and the special planning procedures for HSE PAT Testing.
HSE Portable Appliance Testing Legislation
Similar to businesses, the HSE requires PAT testing of appliances as per the Safety, Health and Welfare at Work (GA Regulations, 2007; Chapters 2 and 3, Use of Work Equipment and Electricity). All tests are done within regulation of HSE risk assessment guidelines and carried out by trained and certified electricians or PAT certified technicians.
PAT Testing Considerations for HSE
Our PAT experts have over a decade of experience with hospital testing and large scale projects for the Irish Health Services Executive. With our years of experience working in HSE, hospital and private care facilities throughout Ireland, we are well versed to meet the needs of your staff and working environments when it comes to scheduling tests and maintenance without disruption in sensitive spaces.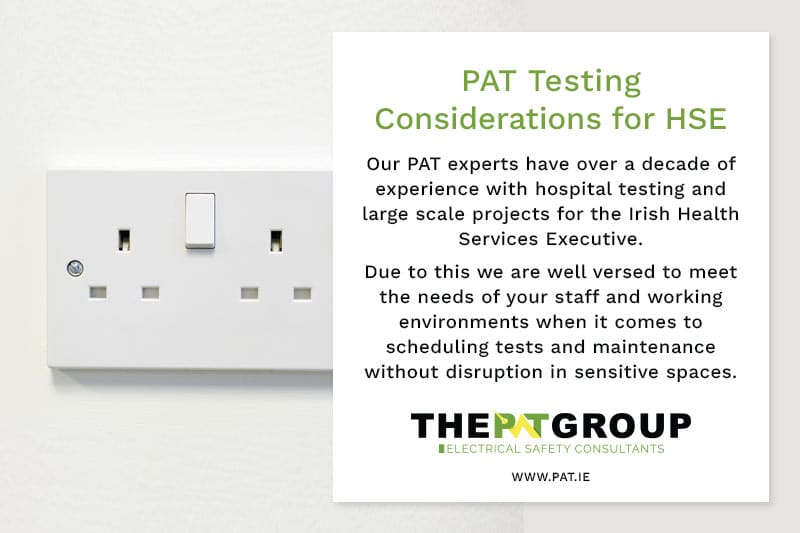 Competitive Pricing for Larger PAT Testing for HSE
As mentioned above, we have significant experience with large scale health facility maintenance with the HSE throughout Ireland and particularly within the wider Dublin area. Due to our familiarity with electrics, building procedures, protocol and testing with the HSE, we offer specialised rates for larger and historical spaces throughout the country.
PAT Testing in Hospital – Regulations & Approach
PAT testing in hospital and care taking environments is necessary not only to show compliance for insurance purposes, but also to demonstrate that HSE risk assessment prompts have been adhered to. Recognizing that there is highly specialized and private care of individuals and medical equipment in these spaces, we recommend calling ahead before any PAT testing to explain the dynamics of the rooms or building to coordinate a comfortable time to carry out necessary maintenance and inspections.
HSE Portable Appliance Testing Certificate
As with all of the PAT testing projects we undertake upon the conclusion of the testing we will issue you with a PAT Electrical Test Certificate. the hospital will also receive their certificate for insurance and liability purposes, in addition to a full report issued by the PAT technician.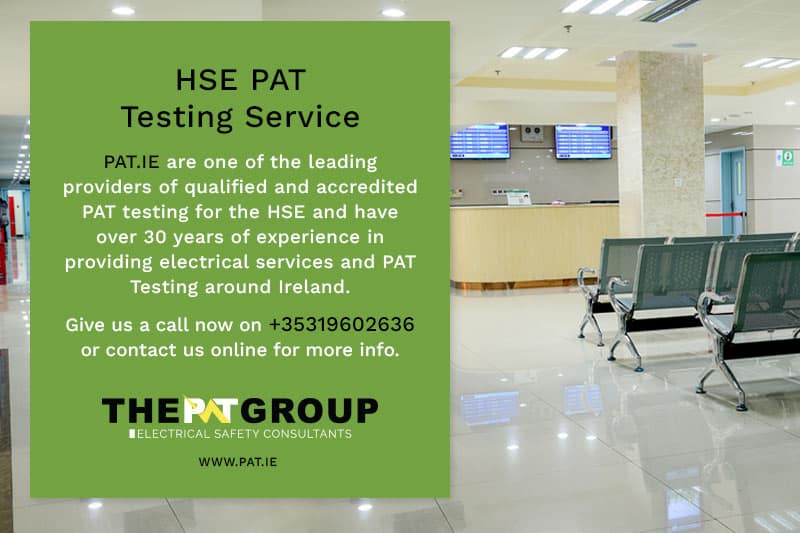 HSE PAT Testing Service
Here at PAT.ie we are one of the leading providers of qualified and accredited PAT testing for the HSE and have over 30 years of experience in providing electrical services and PAT Testing around Ireland. Give us a call now on +35319602636 or contact us online for more info about our PAT Testing service.