In this post we'll explain what fixed wire testing is and why as an Irish business you have to ensure that you complete the tests regularly. We'll also outline the some of the benefits about of testing and how frequently it has to be done, read on to learn more.
What is Fixed Wire Testing
Fixed wire testing is crucial to maintain the integrity of a building or space's main electric system and wiring. The Safety, Health and Welfare at Work (General Application) Regulations 2007, recommends periodic fixed wire testing and inspections for safety purposes, and many insurers require test reports to demonstrate a business or residential management's compliance to risk assessment and safety practices.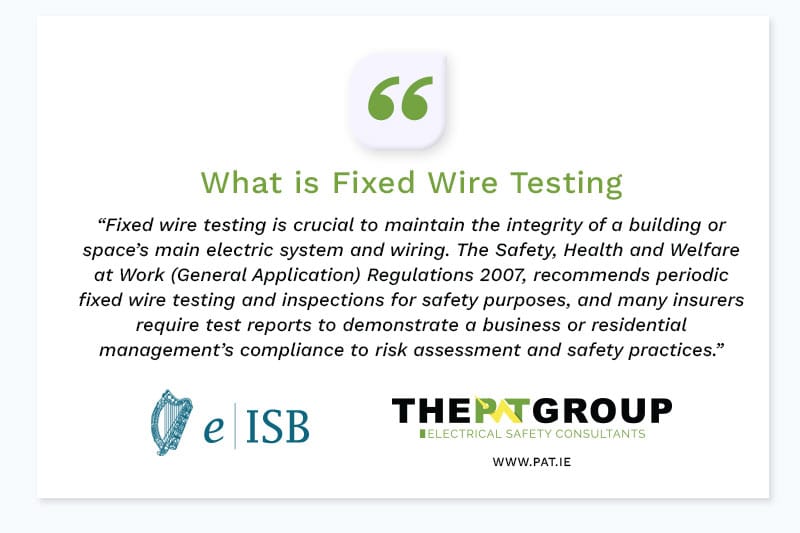 Difference Between PAT Testing and Periodic Inspection Testing
The significant difference between fixed wire testing and PAT testing is that PAT applies to portably wired electronics (kettles, refrigerators, laptops, printers, etc.) and fixed wire testing is for the main electrics and wires throughout the building. Due to the more extensive and methodical electrical work, which requires the de-energization of circuitry, most fixed wire tests need to be completed outside working hours to cause as little disruption to staff or residents. Likewise, it is important to consider the electrical infrastructure of the space (age, size, number of circuits/panels) as this will assist our technicians in providing an accurate quote and timeline to suit your needs.
Fixed Electrical Wiring Testing Frequency
The frequency for testing is dependent on the function and usage of a space. Simply put, the more a space is used, the more it will require periodic maintenance to ensure a healthy and operational electrical system. These variables can be easily ascertained between a client and technician during an informal enquiry, or upon a visitation to the premises. After a consultation or completed testing, the technician will be able to suggest and determine intervals for regular servicing.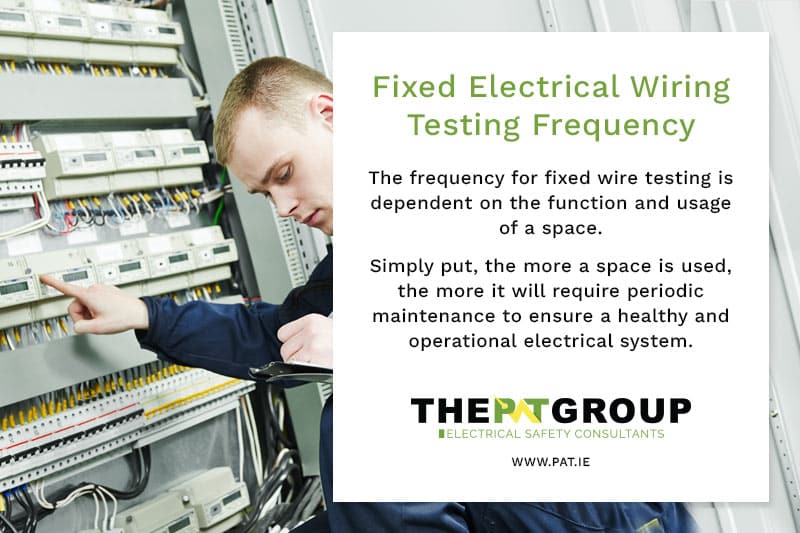 Benefits of Fixed Wire Testing
The benefits of this testing in work and residential spaces is that it checks for any faulty circuitry or wiring, which could result in electric shock (or death) and the cause of electrical outages and irregularities. By maintaining your electric infrastructure with routine fixed wire testing will not only keep your workspace or residences safer, but also more efficient.
Periodic Inspection Certificate
Upon a successful test, all clients will be given a report and provided with certification that can be provided as health and safety compliance for insurance purposes.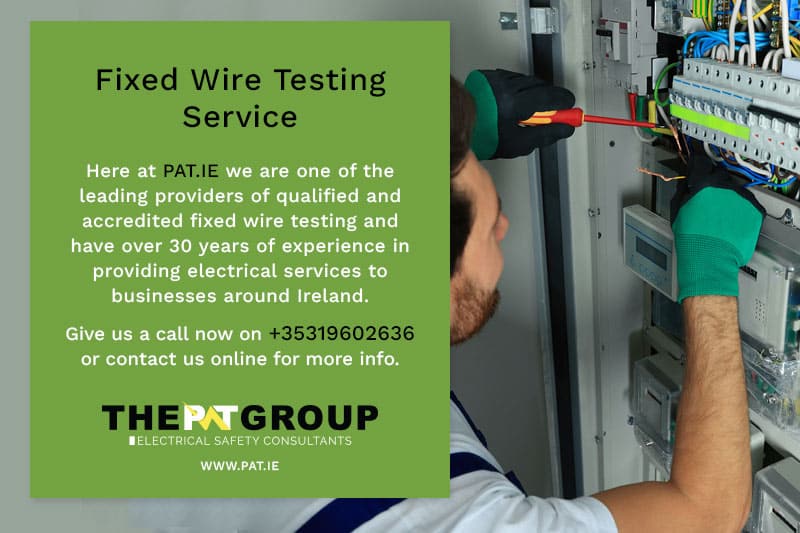 Fixed Wire Testing Service
Here at PAT.ie we are one of the leading providers of qualified and accredited periodic inspection testing and have over 30 years of experience in providing electrical services to businesses around Ireland. Give us a call now on +35319602636 or contact us online for more info about our fixed wire testing service.